At Echo, our users are at the heart of everything we do. Founded by patients, for patients, our mission is to make medication management as simple as possible for people up and down the country.
We all have our own lives, but traditional ways of getting our repeat prescriptions can often feel outdated—and unnecessary—in today's increasingly digital world. As our community grows, the continued input of Echo users helps us find new ways to create a better healthcare experience for all.

This week we profile Amy, who kindly spoke to us about her past experiences of getting a repeat prescription—and how Echo has helped to remove the stress from managing her meds.
Tell us a bit about yourself!
I'm 28, I live in London, and I'm currently studying psychology with counselling at the Open University.
What is your condition and what is the medication you need to take?
Depression, anxiety and chronic migraines. I take an antidepressant for depression, and take beta blockers for anxiety and the migraines.
How long have you had this condition?
The migraines at least ten years, and the depression and anxiety for maybe the last four or five. I've been on antidepressants for around four or five years.
What was your experience of getting your repeat prescription like before you started using Echo?
I just was extremely disorganised. There are two elements to the repeat prescription form and you've got to go and drop one in at the doctor, and I'd often forget to go.
Having to pick the prescription up on the way to my job wasn't ideal. I worked in a shopping centre so I'd have to go and pick up the prescription and then take it to the pharmacy in the shopping centre. Because the prescription wasn't ready immediately, I'd then have to find time before the shopping centre closed to go and pick it up.
Another thing is that the symptoms from my migraines, anxiety and depression sometimes mean I can't get out the house, so I wasn't in the best place to go and get my meds.
Did you ever run out of medication and have to book an emergency appointment?
Yeah, lots of times. I'm not a very organised person. My job before I started doing the degree was retail in a bookshop and had really unpredictable hours, which could be anything until 10 o'clock at night.
I was just rubbish at keeping my medication supply ongoing, so I'd have to book emergency appointments or a telephone consultation just to get the prescription. That might have been a couple of days after running out because sometimes I didn't realise I was going to run out until right before the course ended.
Although I'd try and get an appointment, I was living with my parents at the time and I wouldn't want them to know I hadn't sorted my medication out. It was one of those eye-roll things—I wouldn't want them to know but was secretly trying to sort an emergency appointment. It was very stressful.
If I didn't organise myself properly then sometimes I'd have no option but to not take my medication.
How did you come across Echo?
I've now been using Echo for about a year, so I don't fully remember, but it was probably a Google search. I think I searched to see if there was anything for repeat prescriptions, and it looked so much easier than having to find the time to ring your GP and sit on hold for ages.

What grabbed my attention was that it looked user-friendly and as though it would be easy to use. The layout looked familiar—it looked similar to other apps and seemed legit. The little NHS logo reassured me as well.
I didn't have any concerns, to be honest. I needed it to sort myself out and for something to help me organise my medication. My medication management was already a bit of a mess, so it couldn't have been worse than the job I was doing!
What has your general experience of Echo been?
It's just been really helpful and has helped me keep track of my meds. I generally don't miss doses anymore because I get the little notifications to remind me when to take them. I'm extremely forgetful, so the second I think "oh, I need to order a repeat prescription", I can do it on the spot. And then it's on the way.
It's a lot more instant. That's really helpful as well—it comes to my flat without me having to remember to go and pick it up. I don't even have to be in the house when it arrives.
Have you recommended Echo to anyone else?
I've recommended the service to my mum. Sometimes when I go and see her she'll try and get me to go around the corner to drop off her repeat prescription and I'm just trying to bring her into the 21st century (hopefully she'll follow suit!). I've also told friends who've got similar conditions like anxiety or depression, because it's ideal if you can't get out of bed or leave the house.
💚



Want to share your Echo story?
As we continue our mission to simplify pharmacy, we are continually on the lookout for users who want to share their stories. If you'd like to provide feedback of the app, talk to us about your condition or even feature on the blog, please get in touch at hello@echo.co.uk.
Related articles
More than a headache: my life with migraines
Should I tell my friends and family that I take antidepressants?
Share this article:

More from the blog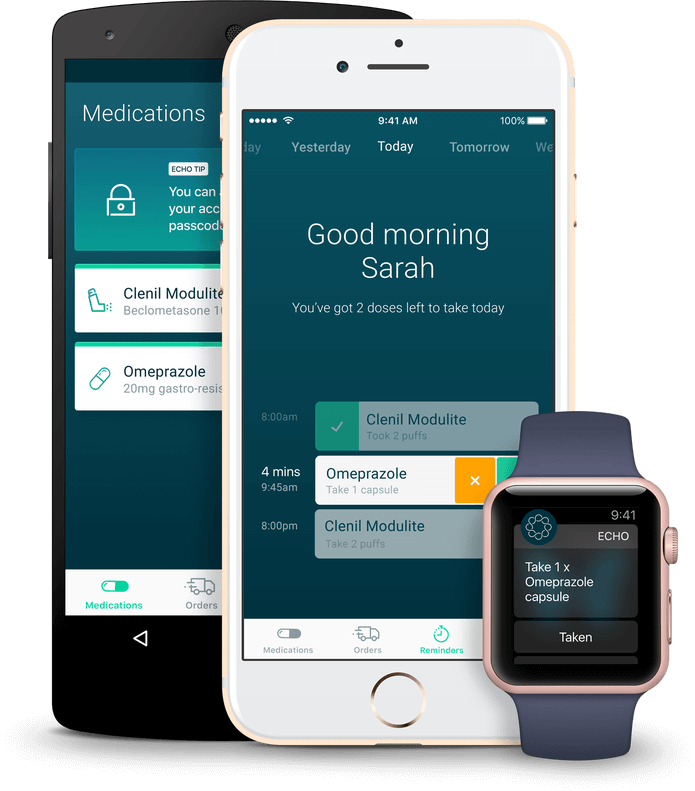 Repeat prescriptions delivered.
To your door.
For free.

Take control today...