Cystic fibrosis (CF) is a genetic condition that affects more than 10,400 people in the UK. Although you are born with it and can't catch it in later life, roughly 1 in 25 of us will carry the gene that causes it. Here's one person's inspiring story of living with CF and overcoming the odds.
Keeping on top of the condition
"Although I was born with cystic fibrosis, I have managed to lead a fairly normal life on the whole. I've lived abroad, travelled the world, graduated from Cambridge, and started a career - something that would have been virtually impossible 50 years ago.
I did have a major downturn in my health when I was 19. Instead of spending my gap year in Southeast Asia with school friends, I ended up being in and out of hospital for the best part of six months.
Since then, I have managed to stabilise my CF. Although I still take an abundance of medication (both oral and inhaled) on a daily basis, I am now much more in control of my condition.
A large reason for this has been due to self-monitoring my condition at home. I take a weekly measurement of my lung function and keep on top of my diet and exercise in order to ensure I'm as fit and healthy as possible.
I'm now using this experience to help one of the UK's leading cystic fibrosis centres at Royal Brompton Hospital build out a new platform that will enable all patients to self-monitor themselves at home. It's my hope that all CF patients will soon be able to stay on top of their condition in the same way I do, and in doing so, lead a much healthier life!"
Royal Brompton Hospital's new smartphone platform allows patients to be treated at home. Source: KWC Today

The fractured reality of traditional care pathways
"Having a lifelong condition that requires daily medication means that I am constantly having to order new prescriptions from my GP.
The majority of these prescriptions are repeat prescriptions that simply need 'topping up'. However, the fact they often run out at different times means I'm faced with the same familiar sequence of events: chasing up the GP to ask for a new order of medication; checking with the pharmacy to see when they receive the prescription; checking to see when the medication is available for collection; and, finally, going to collect the medication in person. The whole process is a real hassle and major inconvenience, especially given that it happens almost every other week!

Occasionally, I will be prescribed a new medication after a routine checkup at the hospital. Although I collect the prescription at the hospital immediately after my appointment, the waiting time is still normally over an hour. If the doctor has prescribed a new long-term course of the medication, I have to chase up the hospital to ensure they have faxed it over to the GP. I then have to repeat the same tedious, tiresome process with the GP."
The importance of self-monitoring
"With all the different medications I take, it is of course quite easy to forget a dose of something every now and then.
Knowing that some medications are perhaps not quite as critical as others and that some medications work over a significantly longer timeframe means that I have to mentally prioritise my medication. It is often the ones at the bottom of the list, therefore, that I will occasionally forget to take - particularly if I'm travelling or having a hectic day. On the whole, though, taking my medications as prescribed is absolutely fundamental to my overall wellbeing so I rarely miss a dose of anything, regardless of where it ranks on my list of its respective importance!

Though my year at 19 was a very mentally and physically challenging one, through taking greater care over my condition I am now able to live a relatively normal lifestyle and look forward to moving abroad again next year!"

Further information
If you have cystic fibrosis and take a repeat prescription for your condition, Echo is a great way to manage your meds. We make prescriptions painless - delivering your medication straight to your door without any extra charge. We also send you reminders for your medication, ensuring you never miss a dose.
Bridging the divide between primary and secondary care, our app was featured in the Evening Standard's report on Royal Brompton's new smartphone scheme that lets people be treated from home. Professor Stuart Elborn, a consultant respiratory physician at the hospital, has high hopes for the scheme: "If we can make it work with CF, we can make it work with asthma, heart failure and congenital heart disease. I trust my money to a smartphone. Why not trust our healthcare?"
For more information on cystic fibrosis, the NHS and the Cystic Fibrosis Trust are great resources.
Share this article:
More from the blog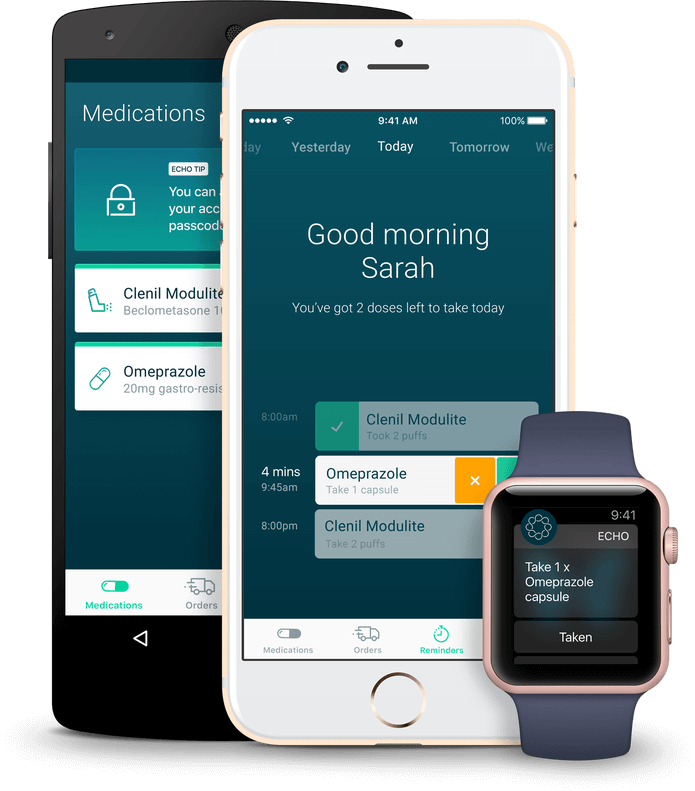 Repeat prescriptions delivered.
To your door.
For free.

Take control today...