Echo has launched a new function enabling carers to order and oversee the medication of relatives or friends with long-term health conditions.

Carers simply add a friend or relative to the app, select the patient's NHS GP and request a repeat prescription on their behalf. Once approved by the patient's GP, the medication is dispensed and delivered to the patient's door, free of charge.
The app helps carers to monitor whether their loved one has taken their medication and alerts them to order more when supplies run low.
Formerly, only patients with repeat prescriptions have been able to use the app to manage their own medication. However, due to growing patient demand, users can now add and manage the medication of others and take advantage of the benefits that Echo provides.
It's estimated that there are currently 7 million carers in the UK, and this is expected to rise by a further 3.4 million by 2030 (source: The Carers Trust). This new feature supports carers by providing the convenience of one platform to manage medication for multiple patients, promoting better medication adherence and outcomes.
John Craig, CEO of NHS Care CIty, said: "We are delighted to see that Echo is extending its service to carers. Technology has a huge role to play in care delivery, particularly when it comes to improving access to services in a safe and cost-effective way. Applications like Echo provide practical, easy-to-use solutions that fit into existing care pathways. Medication management is a significant challenge for carers and clinicians alike, so we are excited at Echo's potential."
Stephen Bourke, Co-founder of Echo comments: "This was the number one feature request from our existing users. Whether it's an elderly parent, partner or simply a friend needing support, care of those close to you can be a complicated – and often emotional – issue. Many patients with long-term health conditions require several different types of medication over the course of a day. Often, it just isn't possible for them to reach this medication – whether it's down to bad anxiety preventing them from leaving the house, issues with mobility or simply time. We hope that by having the app, Echo users will be feel better able to monitor and ensure their loved one is properly adhering to their medication and, in doing so, give them some peace of mind."
Share this article:
More from the blog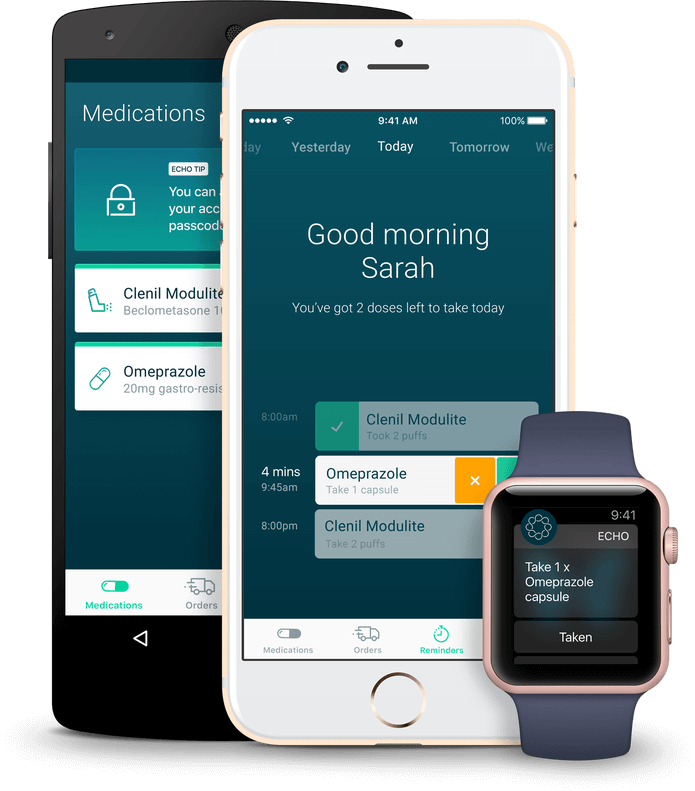 Repeat prescriptions delivered.
To your door.
For free.

Take control today...