5th July 1948.
With his visit to the Park Hospital in Manchester, the Minister of Health Nye Bevan inaugurated the National Health Service: the largest single-payer healthcare system in the world.
This revolutionary new move united all of the UK's hospitals and doctors' surgeries into one state-run conglomerate, based on three core principles:
that it meet the needs of everyone
that it be free at the point of delivery
that it be based on clinical need, not ability to pay.
Since this landmark moment in British history, the NHS has grown into the UK's largest employer and the fifth largest in the world. Every 36 hours, the system deals with over 1 million patients - covering everything from routine screening to end-of-life care. It's so widespread that it has provided some sort of care to just about everybody in the UK.
"The collective principle asserts that… no society can legitimately call itself civilised if a sick person is denied medical aid because of lack of means."
- Nye Bevan
As we celebrate the 70th birthday of the NHS, it's clearly an institution to cherish and protect. However, a combination of fragmented care pathways, a stretched capacity and a time-pressed workforce means there's a massive impetus to improve services.
Enter technology.

Through paperless prescriptions, mobile apps, AI, medtech and more, technological innovation is addressing the structural and logistical problems that any septuagenarian system is likely to face - projecting the NHS into a bold new age in which it can offer everyone the best possible care for generations to come.
70 years of prescribing
Though the current prescription charge is £8.80 (under 16s, over 60s and inpatients are exempt from paying), prescriptions were completely free for everybody during the formative years of the NHS.

A growing drugs bill in 1952 meant that a charge of 1 shilling per prescription form was implemented, which rose to 2 shillings in 1959. The prescription charge was abolished between 1965 and 1968, but since then prices have gradually risen to the current charge.
But what about the number of medications prescribed throughout 70 years of history? The results are staggering:
30,651,074,435 NHS prescription items have been processed from 1948 to March 2018 [1, 2].
Yes, that's over 30 billion items. To quantify this vast figure, it's equivalent to the number of blades of grass on 80 football pitches, or four times the world's population.

To process all of these prescriptions, at least 80 million kg of prescription paper has been used [3] - which is a lot of trees.
And in the past 10 years alone, almost 200,000 kg of omeprazole has been dispensed [4]. That's only the weight of the active ingredient, excluding binding ingredients in each pressed pill and packaging. This is equal to the weight of Air Force One.
Enter electronic prescriptions
Due to increasing pressure on health workers and a fragmented prescription process, the NHS Electronic Prescription Service (EPS) was introduced in 2009 and became widespread in 2013.
The service allows GPs to send NHS prescriptions electronically from their computer to a patient's chosen pharmacy.
EPS saves time and money, and because you don't have to visit your GP every time you need a new prescription, it cuts out unnecessary appointments as well. By demonstrating the cost effectiveness of EPS, this Benefits Estimator from the NHS is a great resource for pharmacists and dispensers.
Here's how the percentage of EPS prescriptions has increased over the past few years [5]:
The potential that EPS holds is massive. In 2017, over 1.04 million hours of GP time was saved by its use [6], while 936,000 hours of GP admin time was saved too [7]. The less time that healthcare staff have to spend signing and filling out forms, the more time they have to directly provide care to patients.
The potential for paperless
Although the timescale is currently unknown, the NHS plans to go completely paperless within the next couple of decades. By harnessing the power of the information revolution, it's hoped that the NHS can improve vital services and make healthcare a better experience for all.
By bolstering lines of communication between primary and secondary care, mobile apps such as Echo are at the forefront of the process of digitisation.
One such example is the smartphone scheme initiated by the Royal Brompton Hospital, which enables cystic fibrosis (CF) patients to receive care from their smartphone at home.
People with CF are segregated during hospital visits to avoid cross-infection, and these trips can often be a distressing and disheartening experience for those with the illness. Under this initiative, however, prescriptions and blood tests can be sent to their homes via Echo and the home-testing service Thriva, respectively - meaning they can receive all of the care they need without having to feel ostracised.
More recently, the NHS111 helpline service has been made available online (in addition to the phone service), giving patients continuous access to free medical advice without the need to call and speak to an operator.
Dean Street Express in Soho has also made good use of the latest technology by offering walk-in sexual health testing, which is a rarity in the UK. Patients check-in via a touchscreen and the tests are performed extremely quickly - with results being texted to you within the day. This use of technology has allowed students from nearby UCL and LSE to take charge of their sexual health by being screened more regularly and at their convenience.
By using technology in innovative ways, these schemes all demonstrate how digitisation can provide simple solutions to complex problems in healthcare.
Gaining momentum with medtech
In a similar way that tech innovation can deliver positive patient outcomes, artificial intelligence (AI) and machine learning technology has the potential to revolutionise the way medical professionals go about their work.
DeepMind, a Google-owned London-based world leader in artificial intelligence innovation, partnered with the renowned Moorfields Eye Hospital in central London in 2016 to apply AI technology to one million anonymised eye scans. Their advanced algorithm can now spot early and extremely subtle predictive signs of eye conditions such as age-related macular degeneration (AMD) and diabetic eye disease with far better accuracy than doctors; a win-win situation for patients and clinicians alike.
The HAVEN project, run by the Nuffield Dept of Clinical Neuroscience at the University of Oxford, aims to implement an AI-based IT system into hospitals that continuously performs risk assessments on all currently admitted patients. By finding patterns in records of patients previously admitted to intensive care, their software can predict which patients are more at risk and give hospital staff the opportunity to prevent them from deteriorating.
These AI-based systems can only improve in accuracy each time they are used, as the data set fed into the software to find patterns gets bigger. On its 70th birthday, the NHS has gifted us the extremely unique and valuable resource of seven decades worth of complete medical records. Such a plethora of information puts us in place to innovate digital health better than any other country.
Elsewhere, the Royal Marsden Hospital has been performing robotically-assisted minimally-invasive surgeries for over a decade by using the da Vinci surgical system. This allows far greater surgical precision and visualisation for the surgeon, as well as faster recovery times. Patients can leave the hospital on the same day as their prostate removal surgery and in much less pain than they would have done with a traditional procedure.
Minimally Invasive Robotic Surgery with the da Vinci Surgical System.
Robotic surgery involves a surgeon controlling small instruments, mounted around the patient, from a console on the other side of the room from the operating table. The potential here is extremely exciting: if the surgeon can operate 'remotely' from a few metres away, who's to say that they can't operate remotely from the other side of the world!

By embracing all of these technological advancements in secondary care, our health system can evolve to become compatible with the digital age.
The takeaway
This latest milestone has given us the perfect opportunity to reassess the past, present and future of the NHS as it approaches the third decade of the 21st century. And it is widely agreed that innovation is the answer.
Embracing technology in both primary and secondary care will allow us to predict and prevent deterioration rather than identify and treat problems after they have arisen. This represents a general shift in focus from treatment to prevention, and technological input can assist healthcare in promoting general wellbeing.
Technology works synergistically with humans in hospitals. Rather than causing mass unemployment, it instead allows hospital staff to spend less time mindlessly filling out form after form and more time focusing on the immediate care of their patients. Simple automation of A&E triage, for example, could dramatically reduce the famously lengthy waiting times.
So whilst you're enjoying your NHS 7Tea cuppa this evening, have a browse of the NHS Apps Library to see how you can get on board with this technological revolution. Consider the power that our NHS could wield if it implements the technologies that we have discussed. It could be even greater.
Further reading
References
Share this article:
More from the blog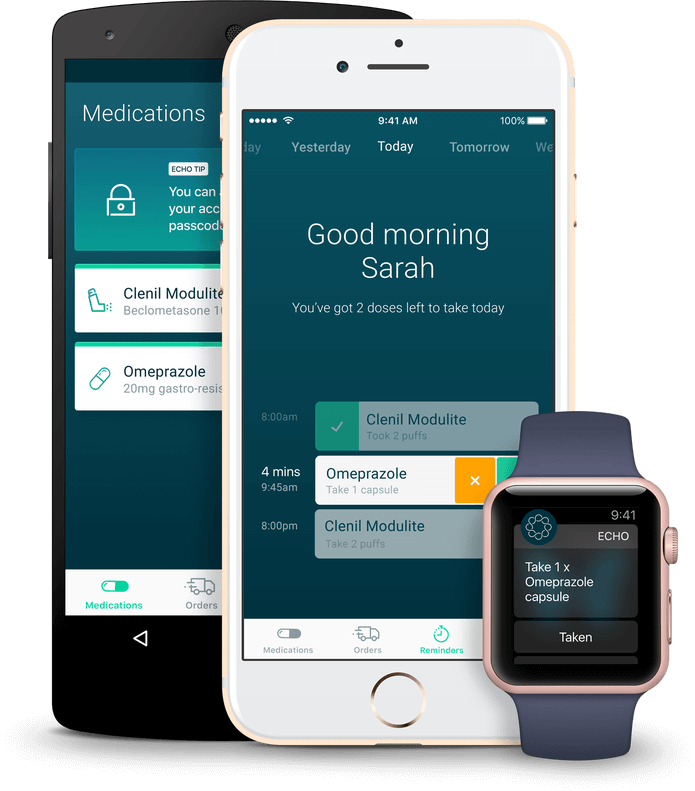 Repeat prescriptions delivered.
To your door.
For free.

Take control today...