There's change afoot at Echo! GDPR legislation is coming soon, and we've been beavering away to translate 88 pages of legal-ese into useful tools for you, our dear users. Read on to find out what we're changing.
Healthcare is already leading data privacy
A huge part of GDPR is giving everyone more control and knowledge about who uses their data, and how.
In addition to the changes the GDPR will bring, healthcare organisations have always been regulated and abided by Information Governance (IG). This means there's some crossover between GDPR and NHS regulations.
GDPR specifies that organisations retain documentation for all data they handle, and the NHS is well ahead of the game in this respect due to IG. Alongside GDPR, this means the digital health sector has thorough privacy regulations in place to make sure you have control over your data.
To find out more about GDPR you can visit the ICO website here.
Changes at Echo
While we already have privacy built into every part of Echo, GDPR has given us the perfect excuse to spend a bit more time thinking hard about how to make managing your data more simple and transparent. As a result, we've made a few changes:
1) Keep you informed.
Based on your feedback, we know that sometimes it is unclear about who has access to your information when using Echo.
For us, some lack of clarity is too much.
We're now changing our policies, as well as looking hard at the words we use to make sure they meet our standard, as well as what GDPR asks.
2) Give you more control.
Not everyone is the same - what one person is happy to share, another may not be comfortable. And that's OK. We are busy building ways for you to make choices about how and when your data is used.
3) Ask you more often.
From now on, we will always ask you if you would like to receive information from Echo, and how you would like to get it.
For example, if you wanted to receive emails from us, just tick the box. If you want to receive post from us, just tick the box. If you want to receive ponies… you get the picture!
The right to be forgotten
Under GDPR you have the "right to be forgotten", meaning you can request the deletion or removal of your information that we hold.
However, due to NHS guidelines, the healthcare-related data that is stored on your Echo account is retained for 8 years. After the time has elapsed, the data will be removed. It's as easy as that.
Want to get in touch?
We would love to hear what you think - it genuinely makes our day. Please drop us a line at feedback@echo.co.uk or leave us an app review.
If you want any further information about the life cycle of your data, please get in touch at dpo@echo.co.uk.
Emma K. Wells

App Product Manager at Echo
More from the blog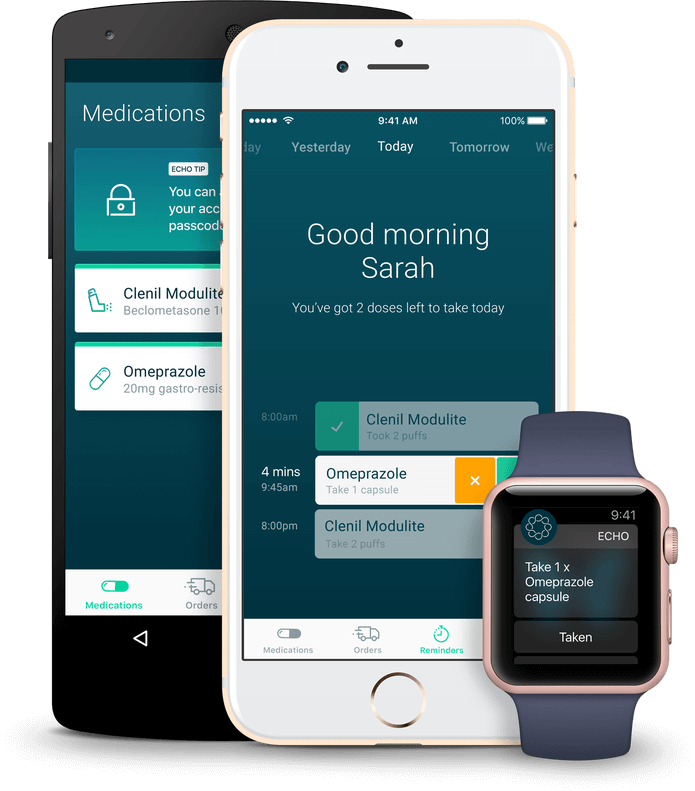 Repeat prescriptions delivered.
To your door.
For free.

Take control today...