At Echo, our users are at the heart of everything we do. Founded by patients, for patients, our mission is to make medication management as simple as possible for people up and down the country.
We all have our own lives, but traditional ways of getting our repeat prescriptions can often feel outdated—and unnecessary—in today's increasingly digital world. As our community grows, the continued input of Echo users helps us find new ways to create a better healthcare experience for all.
This week we profile Nitzan, who talked to us about how Echo helps him keep on top of his condition and free up his valuable time.
Tell us a bit about yourself!
I'm a medical doctor based at the Whittington Hospital near Archway. I'm married and though I don't currently have kids, one is on the way!
What is your condition and what is the medication you need to take?
Chronic urticaria (hives). I take fexofenadine, a third-generation antihistamine, which I take once a day in the morning. If I miss a dose within 24 hours I tend to get hives quite quickly afterwards. The next day it pops up all over the body and can get very itchy!
How long have you had this condition?

Roughly ten years. I'm originally from Israel and was diagnosed by a dermatologist there.
What was your experience of getting your repeat prescription like before you started using Echo?

When I came to the UK the first thing you do is to get set up with a GP. With GPs it's always difficult to get appointments, and even a medical doctor like myself needs flexibility when it comes to finding a way to get your repeat prescription. I was initially with Boots, but it was still difficult to find the time.

If I didn't find the time to get to the GP, I'd have to get over-the-counter antihistamines which usually make you drowsy - not very good for someone who works in an on-demand, professional role. Those kinds of things made me look for an alternative for how to get a prescription, and that's the reason I ended up using Echo. It's definitely saved me time, energy and all the hassle of trying to find a pharmacy that's open at a convenient time.
Have you ever had any instances where you ran out of medication and had to book an emergency appointment?
I did, and this is one of the reasons why Echo came to the rescue. Obviously, GPs are only open Monday to Friday and only at very specific times on weekends, so there were issues whenever a GP couldn't reissue a prescription. There were several times I had to suffer a few days of having hives and being incredibly itchy.
In such a case, I'd have no option but to book an emergency appointment. Because I have a busy schedule, I would have to book a specific appointment, get the prescription down or pick it up from the GP. I'd have to turn around all of my normal day-to-day life just to get a prescription.
How did you come across Echo?
I think the first time I came across Echo was when I was at a conference for medical professionals. I remember there was a stat about adherence which I saw after I'd picked up a brochure or leaflet, and I thought it was definitely something I should try. Being able to renew my prescription without dealing with all the mess and without getting annoyed or upset that there were no appointments or that I couldn't get to the pharmacy sounded brilliant.
What has your general experience with Echo been?
So far it's been a positive one. It's been absolutely brilliant, hence that why I thought giving feedback is quite useful. Many of the questions I had were answered by the website, which gave a good overview of the procedure.
Because it had some similarity to what at that time Boots offered with their prescription service, I kind of knew how it would work and what it would entail in terms of giving permission for a different pharmacy to supply my medication.
What I did like about Echo is that you don't need the middleman, so you don't need me to call the GP to remind them that I need the prescription. There's also more responsive support, so if the prescription doesn't go through with the GP or the GP hasn't approved it you get instant feedback. With other prescriptions services, I'd have to call them up and remind them what's going on. So Echo are a bit more reachable and accessible.
Have you recommended Echo to anyone else?
I've recommended it to patients around the ward - many of whom, of course, are having adherence issues of their own. I tell them you can get reminders on your phone for when to take your meds, and if you have multiple medications (what we call polypharmacy), it makes it much easier to manage your medication. As long as more people know about the service I'm happy to spread information.
💚
Want to share your Echo story?
As we continue our mission to simplify pharmacy, we are continually on the lookout for users who want to share their stories. If you'd like to provide feedback of the app, talk to us about your condition or even feature on the blog, please get in touch at hello@echo.co.uk.
Related articles
Fexofenadine: uses, benefits and side effects
Share this article:
More from the blog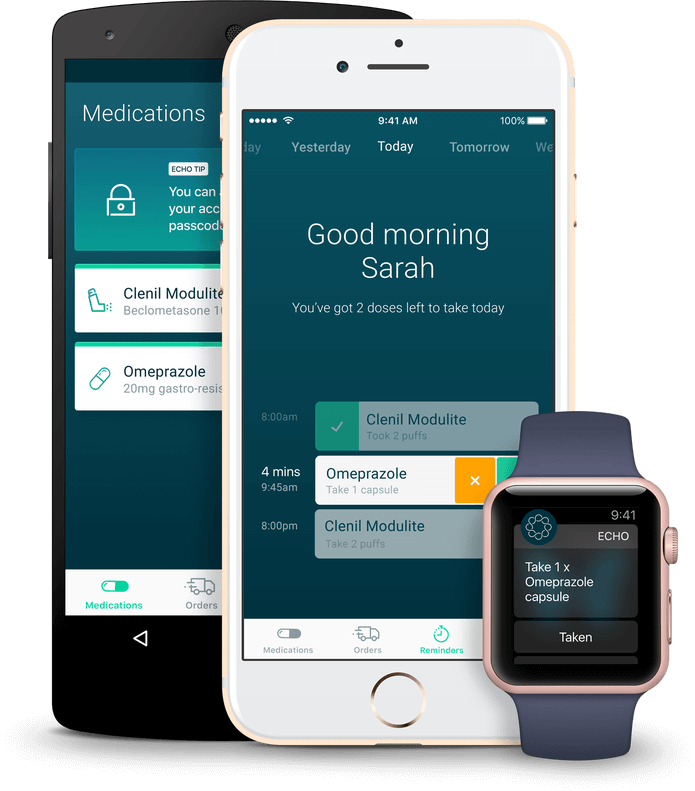 Repeat prescriptions delivered.
To your door.
For free.

Take control today...