I have a couple of chronic conditions including hayfever, asthma and extreme dry eyes (thanks to my LASIK surgery) which require a series of prescription eye drops. I've been lucky because my symptoms are mostly mild but there are times when I experience acute symptoms.
When I do experience these, I usually make an emergency appointment with my GP to get a prescription. Once I've got the prescription, I pick it up immediately and take it as directed until it runs out. Then I forget about it because my symptoms have temporarily subsided.
I know I should go back to the GP and sort out a repeat prescription to stay on top of my conditions, but I can't be bothered because generally I'm too busy to make another appointment.
I'm a classic example of how NOT to manage medication. Again, I'm lucky that my conditions are mild. Others don't have the luxury of just being too busy (or lazy) to sort out their medicine.

Also, as I get older, the chance of my symptoms getting worse seems inevitable so as one of my (belated) New Year's resolutions, I want to get better at managing my medications.
To do this, I want to find out what's the easiest and best way for me to get a repeat prescription. Plus, I want to minimise my trips to the GP and pharmacy because I have enough things to worry about, as I'm sure you do too!
What exactly is a repeat prescription anyway?
About half of the UK's working population have long-term chronic conditions that require them to take medicine on a regular basis for an extended period of time, according to the Office for National Statistics. This percentage of the population increases with age.
GPs can give you a repeat prescription to avoid having to see more than half the British population on a monthly basis to re-prescribe medicine for ongoing conditions. This allows you to regularly refill your medication without having to see the doctor every time.

GPs will still ask to see you every six to 12 months to see how you're getting on and make any necessary adjustments.
Where can I go to fill my NHS repeat prescription?
There are several ways to go about refilling your repeat prescription when you're nearing the end of your current supply of medicine. I'll walk you step by step through a couple of options and you can decide which way is the easiest and best for you.
Option 1: The traditional way
The traditional way involves at least three trips a month. Two visits to your GP (one to drop off the repeat prescription request and the other to pick up your new prescription) and one trip to the pharmacy.
Finding a time that works with your schedule and the opening hours of your GP or pharmacy can be tricky. Most evenings and some weekends are out. And don't forget nearly everything is shut on bank holidays.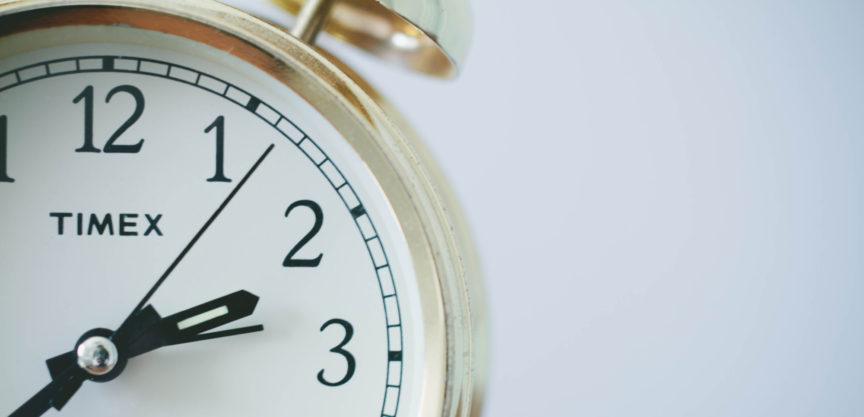 Hopefully the GP can review your request in 48 hours. And heaven forbid your paper prescription gets lost in the shuffle at the surgery or your pharmacy is out of stock, otherwise you might be stuck making a fourth or fifth trip.
This option requires advance planning to ensure you have enough of your medicine to see you through. It's complicated and secretly makes me wither inside when I realise how many errands I have to run in order to stay on top of my medication.
Verdict: Chances are I would put it off to the last minute or it just wouldn't happen, which isn't an option for a lot of people with chronic conditions.
With a long process like this, I'm not surprised that £56 million of A&E time is wasted each year on emergency appointments specifically addressing repeat prescriptions.
Time required: Three errands, possibly more. (That's three too many in my book.)
Cost: £8.60 (£0 if I was exempt or had a prepayment certificate.)
Option 2: Through an online pharmacy
Since we live in the digital era, I wanted to see how an online pharmacy compared to the traditional method.
So I tried a large national chain.
From the website, it looked fairly straightforward and the pharmacy claimed it would take only five minutes. Great. I already had a rewards card so thought this should surely help speed things up as well.
Cut to more than five minutes later (after resetting my password, logging in, getting kicked out and logging in again, entering my details not just once but twice, which surely I shouldn't have to do these days…), I get to a search box where I'm supposed to enter my medication.
I find my medicine and select my strength. I'm then prompted to input a number, which looks like it should be for my order quantity.
I only need to order one inhaler but upon closer inspection, the instructions ask me to enter the strength of my prescription. I thought that was specified when I selected my inhaler but I enter '100' and click 'next'. (At this point I'm praying that I haven't just ordered 100 inhalers.)
The next couple of pages go smoothly and I get to the methods of delivery. I have three options: Collect in store / Collect from Post Office / Have it delivered.
Obviously I select to have it delivered because, as we've established, I pretty much loathe running unnecessary errands. I'm all set with delivery until I see that someone has to sign for the package.
Unless it's an expensive new piece of furniture being delivered or an urgent repair, chances are I'm not going to wait around at home for it. Nor do I really want it turning up at work.
On this occasion, I'd rather pick it up when it's convenient for me from the store. I select 'Collect in store' and finish up. I don't even have to pay because I'm picking up in store.
I'm pleased until I reach the 'Thank You' page and re-read the collection date. It's in two weeks… TWO WEEKS!!!!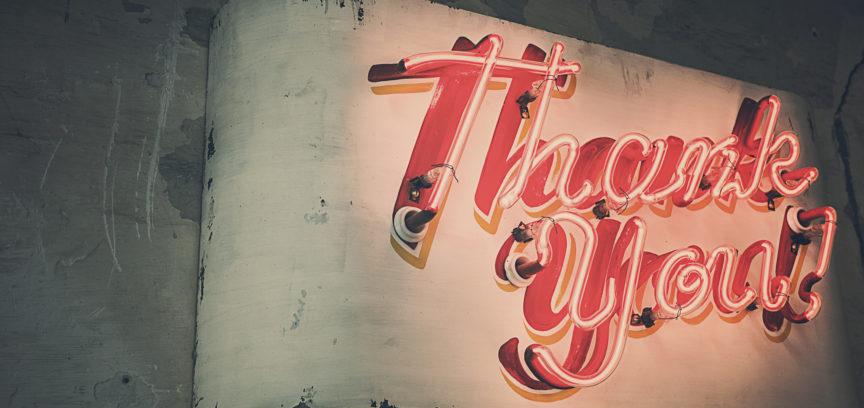 It's going to take this pharmacy TWO WEEKS to get my prescription to my local shop? My prescription is probably already sitting in stock in my local shop. Why is this going to take two weeks?
Then I remember that they have to verify my prescription request with my GP which is fair enough. I appreciate that takes time but surely at the very least, they could be more transparent about why it might take that long and what I can expect in terms of next steps.
And the rub came in the confirmation email where they say they'll have my prescription ready for collection by the date 'I have chosen'.
Verdict: It could be better. I personally don't like this much ambiguity when it comes to things I order online. I need to know what's happening and when I can expect to see or hear something. And I don't accept two weeks as a reasonable option these days.
Time required: One errand. Not ideal but better than waiting to sign for a delivery.
Cost: £8.60 (£0 if I was exempt or had a prepayment certificate.)
I also tried another online national chain on my phone.
Because not all online pharmacies are created equal, I wanted to try another option as well just for good measure.
It was a bit disappointing because the online form for this pharmacy stopped working partway through the second of four steps. I could only select my address when I clicked on any drop down on the page. So I didn't get very far through this process.
Verdict: Normally if I hit a roadblock like this chances are I'll opt for the path of least resistance. In most cases, the path of least resistance for me is abandoning the route.
Sometimes a forgotten password or a glitchy website is all it takes for me to switch brands. I hate to admit it but I don't really care if it's Domino's or Papa John's tonight as long as I can have a hot pizza delivered now!
Time required: n/a
Cost: n/a
Option 3: Through a mobile app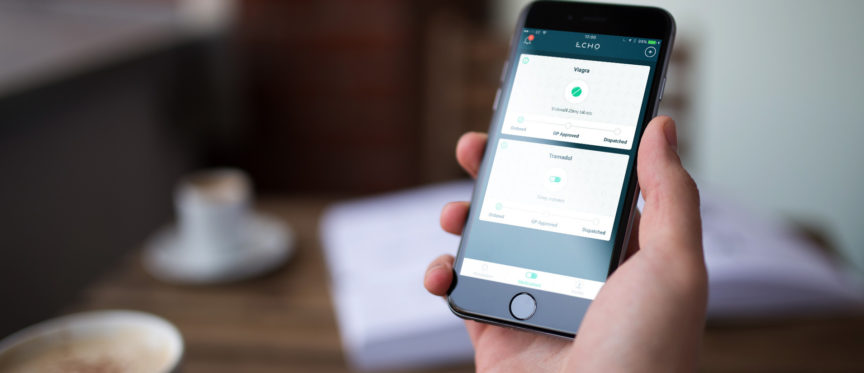 I wanted to take testing via phone one step further by ordering a repeat prescription via a dedicated medication app - Echo.
Now I have to start this with a disclaimer because, yes, I do work for Echo. But caveat aside, I genuinely believe that what I found might be of interest to you.
After setting up an account and verifying my email address, I'm greeted with a welcome message from Stephen, one of our co-founders offering, help at any stage. Next I can either scan the barcode to find my medicine or search by name.
I scan two prescription boxes and select my medicines quickly. Now I'm ready to order, so I fill out my contact details and select my GP surgery. Everything is straightforward, simple and works!
I select how I pay for my prescriptions and sign the Terms & Conditions which are spelled out for me loud and clear instead of being hidden as a small or insignificant tick box.
I finish my order and receive a notification that Echo are now contacting my GP. They explain it could take up to two working days and they'll be in touch as soon as. Very transparent and I know what's happening next.
I was able to do all of this in less than 10 minutes and I've enabled notifications on the app so when they do hear back from my GP, I can receive any updates on my order.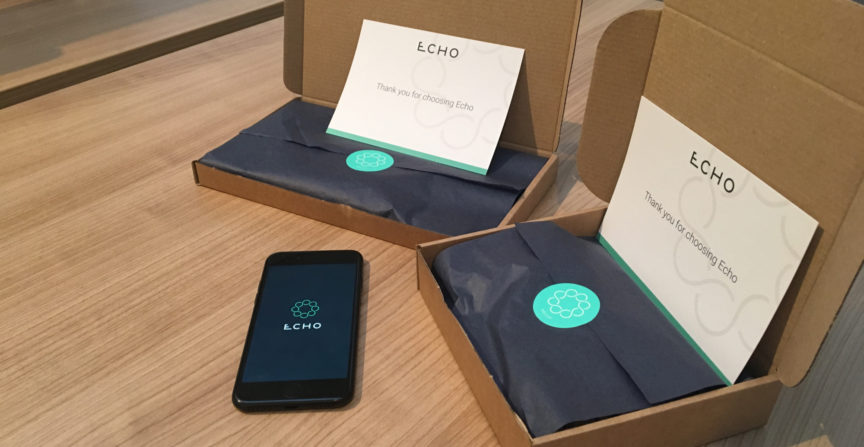 Plus, I did my research beforehand and know that Echo's packaging will fit through my mailbox so I won't have any problems when my medicine is delivered.
Verdict: Hands down the best of the bunch. Saves me time and time is precious!
Time required: About 10 minutes. I could do it while waiting for the bus on my way home from work.
Cost: £8.60 (£0 if I was exempt or had a prepayment certificate.)
Make life simple
Scroll down to download the app...
More from the blog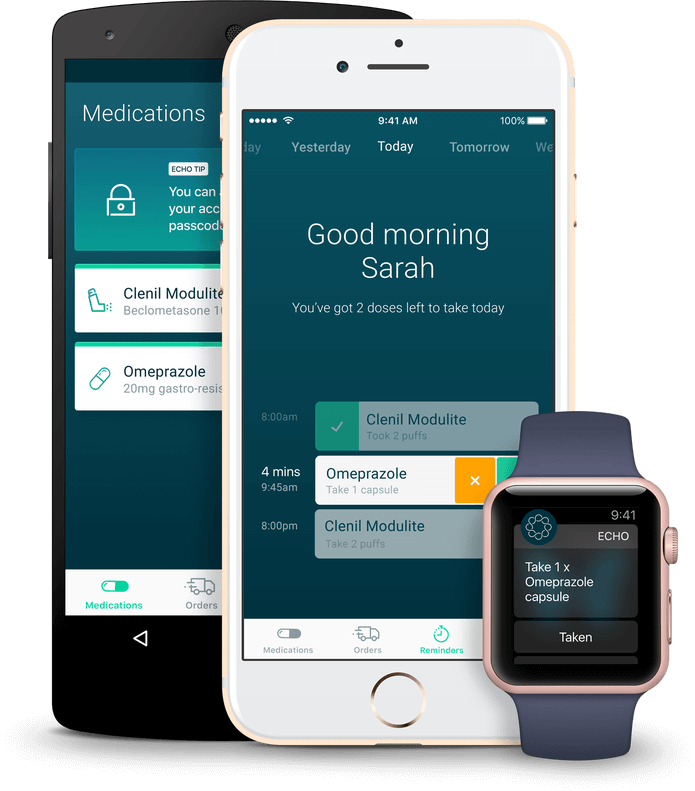 Repeat prescriptions delivered.
To your door.
For free.

Take control today...