For NHS professionals
Radically improving medication adherence
Echo's co-founders both take medication to manage long-term conditions and were frustrated with the hassle of ordering repeat prescriptions. So they assembled a unique team of doctors, pharmacists, designers and developers to build something better.

Echo has been assured for its high quality, safety and effectiveness by the NHS and is included on the NHS Digital Apps Library. We work closely with NHS Digital and were chosen to be featured in the NHS Digital Annual Report for 2017-18. You can read the report here.
DigitalHealth.London is a collaborative programme delivered by MedCity, and London's three Academic Health Science Networks – UCLPartners, Imperial College Health Partners, and the Health Innovation Network. Echo continue to benefit from their support and guidance. You can view our letters of support here.

Find out more about Echo's mission in this video, which was produced by ITN for the Royal Society of Medicine:
Awards
Mayor of London Outstanding Achievement Award 2018
KPMG Best British Mobile Startup 2018
HealthTech 27 2018
Pfizer Healthcare Hub Winner 2017
Marketing Week 100 Disruptive Brands 2017
Upscale Class of 2017
Healthcare Startups App of the Year 2016
Tech City News Startup of the Year 2016
Tech City News HealthTech Startup of the Year 2016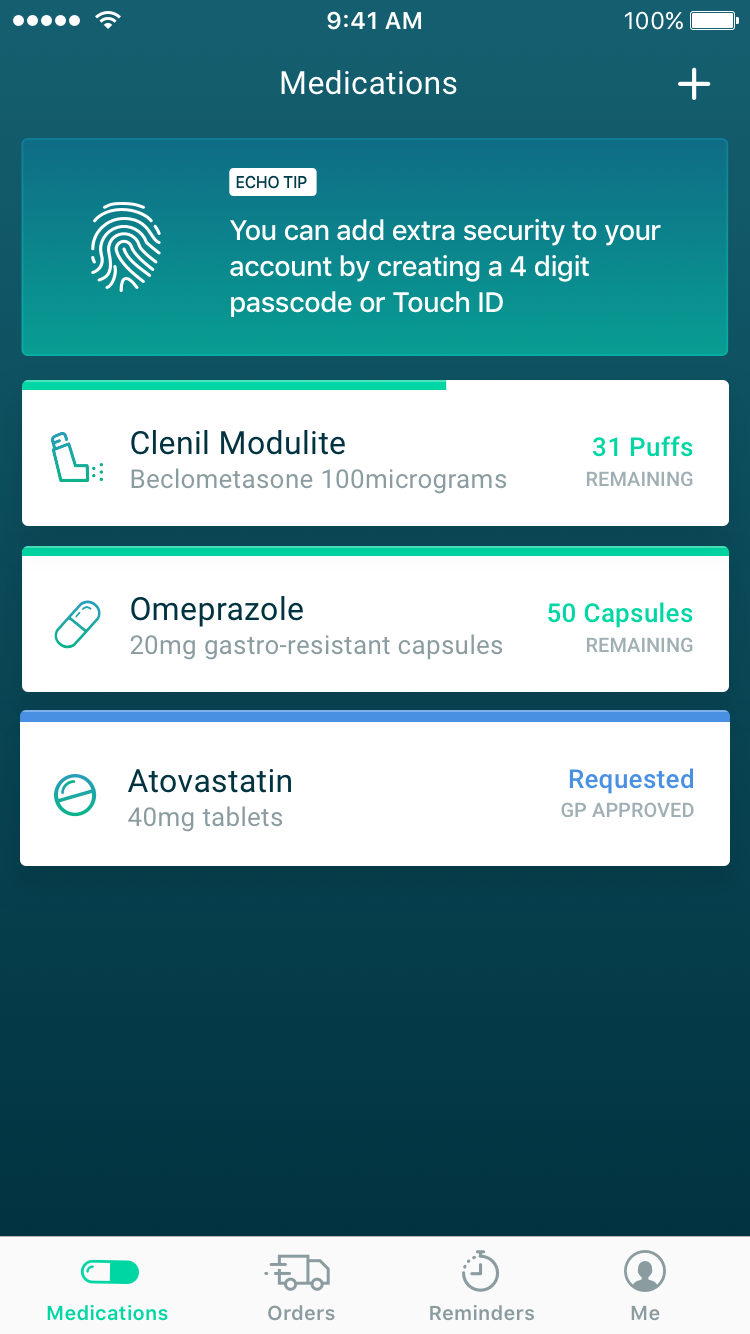 No set-up required

Echo works seamlessly with existing NHS England GP systems, so there's no extra software or training required on your part. Simply fewer patients to see each day.


The burden on practice administrative staff is eased, too. We ensure that prescriptions are requested in the format your practice prefers and are working with NHS Digital on full system integration.

Reducing waste

With Echo, patients can only order what they need, when they need it. There is no automatic third-party ordering. This results in reduced medicine wastage, as well as the associated time spent in the prescribing and dispensing of unneeded items.

Dosage and supply reminders through the app reduce medicine waste by patients.

From an administrative perspective, the process for requesting repeat prescriptions is streamlined – moving from paper-based to digitally recorded information.

Improving medication adherence

NICE estimates that between a third and half of all medication isn't taken as directed. Echo addresses non-adherence by:

Removing the barriers to possession: We tell patients when they are going to run out, and then facilitate the end-to-end delivery of medication.
Improving compliance: Echo take GP directions and automatically tells patients when to take their meds and when they are about to run out, nudging them towards better compliance.
Improving concordance: Important information is included on the app so that patients get a better understanding of what they are taking, how it works, and why it is important to be adherent.
Our partners
Echo works with clinicians across primary and secondary care to help inform how we optimise our service.
Our most important partners are the patients themselves, whose continued input is invaluable.
Echo has the potential to radically transform how patients manage their repeat prescriptions, as well as improving patients' adherence to prescribed medicines. It is both practical and innovative, with the ability to make an immediate impact.

We are excited to be working with Echo as it provides patients with a hassle-free way to better manage their medication. A doctor's time is precious, so by eliminating unnecessary appointments, Echo will make our GPs' lives easier and improve clinical outcomes for patients.

Echo represents a step-change in medication management. My patients already use apps to manage every other aspect of their lives, so its fantastic to see this level of innovation in the NHS. By removing barriers to adherence and improving communication, it can help transform primary care - letting me spend less time on admin and more time caring for patients.

As a pharmacist and clinician, I want to spend as much as possible talking to patients. Echo simplifies pharmacy workflows; taking paper-based systems online and making our lives easier.
Please get in touch
If you would like to work with Echo, please drop us an email. We are always keen to hear from innovative GP practices, pharmacies and patient ambassadors.
Contact us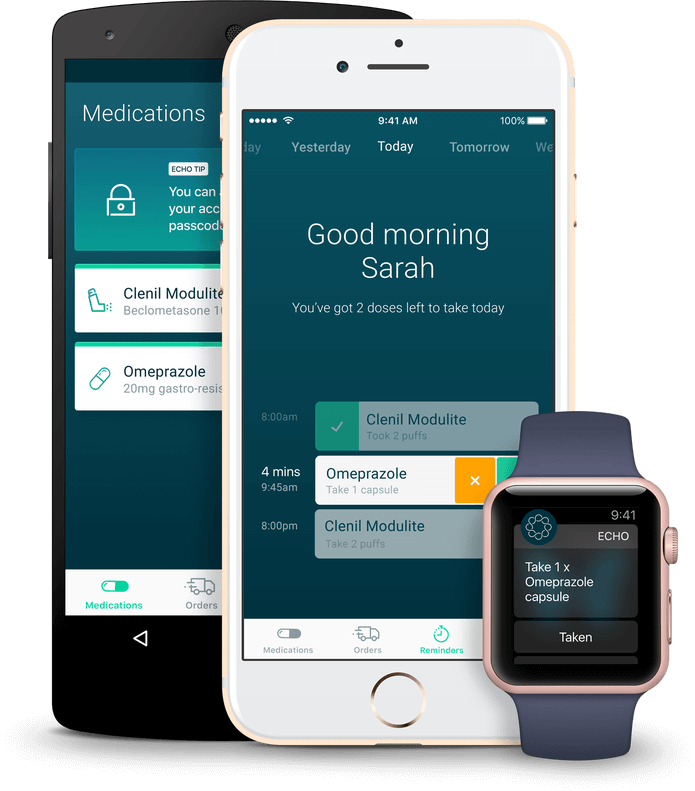 Repeat prescriptions delivered.
To your door.
For free.

Take control today...