Legal
Important Information
Intellectual Property
Echo takes ownership of its intellectual property seriously and we've outlined some key information below:
Legal advisor
Our legal advisor is CMS LLP, Cannon Place, 78 Cannon Street, London, EC4N 6AF. Echo is part of their start-up programme and CMS' partners have directed us on our end-user agreements, patent applications and design rights.
Patent

Our core technology has been developed 100% in-house and is a custom-built product, which is now patent-pending.

Copyright
Our parent company (Metabolic Healthcare Ltd) owns all the copyright to the information, copy, logos and designs displayed on this website, the Echo app and any other digital/offline media.

Trademark

Echo is a registered trademark of Metabolic Healthcare Ltd (classes 09, 35, 42 and 44). If you have any further IP related questions, please write to us at hello@echo.co.uk and if necessary, we will pass on your request to our solicitors.
Partner Pharmacies
Echo works with leading NHS community pharmacies to manage the dispensing process. These pharmacies are registered with the General Pharmaceutical Council and fully comply with NHS, UK and EU regulation.
If you are a community pharmacy and would like to learn more about how Echo's technology can help improve workflow management and medication adherence, then please email us at partners@echo.co.uk. Please note that we are currently processing a large number of partner requests and may not be able to get back to you immediately.

Terms & Conditions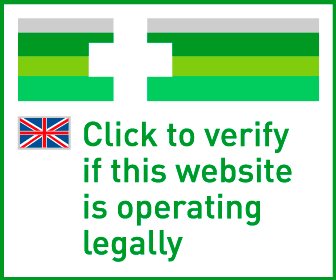 These terms apply to your use of Echo sites, apps and services delivered by Metabolic Healthcare Ltd, a company incorporated in England and Wales under company number 09668487 whose registered office is 21 Dartmouth Street, London, SW1H 9BP ("we"/"us"/"our"), as described below ("Service"). If you do not accept these terms, then you should not use Echo.
What is Echo?
Echo is a digital service that enables you to request repeat prescriptions from your NHS England GP, to be transmitted to and dispensed by a community pharmacy selected by us (the "Pharmacy Partner"). Our process utilises the NHS Electronic Prescription Service ("EPS"). Your contract with us is only to provide this intermediary/facilitation service. You can read more about EPS by visiting the official NHS website.
By using Echo, you agree to nominate the Pharmacy Partner listed on the app at time of sign up as your NHS EPS pharmacy. This means that all prescriptions issued electronically by your GP will be sent to this Pharmacy Partner for dispensing.
You agree that Echo will generate a nomination certificate using your electronic signature, which may be shared with your GP practice, our Partner Pharmacy or any authorised NHS or regulatory body. You give consent for this pharmacy to share information with your GP, if necessary, with regards to the electronic Repeat Dispensing Service (RDS). You agree that you understand the NHS Electronic Prescription Service and that you have been provided with clear information that explains nomination.
You agree that the Echo pharmacist or pharmacist technician responsible for your order can access your NHS Summary Care Record if clinical and/or safety information is needed. This permission is valid from 12 months from the date of your last order or until you withdraw consent. All access is automatically logged and recorded by the NHS for audit purposes. You can read more about the Summary Care Record by visiting this link.
You agree that Echo and its Partner Pharmacy can contact you in order to manage your order. This can include contact via live chat, telephone, email or post.
You agree that Echo is for your own personal use only, and for existing repeat prescriptions only.

You agree that Echo will send you reminders as to when to take your medication and when you are about to run out. You understand that medication reminders provided by Echo are based on your GP's directions and Echo is not liable for reminder accuracy. If in doubt, please contact us via live chat or email help@echo.co.uk. Always follow the advice printed on the medication container in the first instance.

Finally, you agree that once a prescription is available that Echo can dispatch your medication via Royal Mail.
If at any point you want to remove your nomination, please contact us via hello@echo.co.uk and we will update your preference and remove all consent in no later than two working days. Please note that If you cannot wait for delivery, we can transfer your prescription to your nearest bricks and mortar pharmacy.
How does Echo work?
Download the app, register your details and make a repeat prescription request. Echo's pharmacy team will then confirm your details and forward your request to your NHS England GP. Please note that this request will include your electronic signature and personal details. Your GP may want to speak to you before prescribing so your request may not be processed immediately. If you consult with your GP, you should tell them that you would like your prescription to be sent electronically to your 'nominated' pharmacy (Echo's Partner Pharmacy). Your GP may be delayed in issuing a repeat prescription. Echo has no control over these delays and we will direct you to contact your GP directly if there are any notable issues when obtaining your prescription. Echo is not to be used for emergency supplies (i.e. medication than you have not already been prescribed), schedule 2 controlled drugs (e.g. certain strong painkillers), schedule 4 controlled drugs 4 (e.g. Temazepam) or schedule 7 controlled drugs (e.g. Buprenorphine).
Once approved, your prescription will be sent electronically to Echo's Partner Pharmacy who will dispense the medication. We will then pack the medication and dispatch it via Royal Mail. This is carried out under the strict rules and guidance covering community pharmacy in England.
Who is liable if something goes wrong?
You: are responsible for the prescription orders you place, the information you provide and for checking and taking any medication correctly. You are responsible for complying with these Terms and only ordering on your own behalf.

Your GP: is responsible for issuing your prescriptions and providing you with medical advice. Please note that all prescribing decisions are made by your GP, not Echo.

Our Pharmacy Partner: is liable for dispensing your prescription correctly and in accordance with General Pharmaceutical Council standards and guidelines.

Royal Mail: is responsible for delivering your medication.

Echo: is responsible for providing the Service. We accept liability for death or personal injury caused by our negligence and we do not seek to exclude liability for fraudulent misrepresentation. You have certain legal rights. These include that we will provide the Service with reasonable skill and care and within a reasonable time. You have certain legal remedies if we breach any of these rights. Nothing in these Terms is intended to affect these legal rights or other rights to which you may also be entitled. For more information on your legal rights contact your local Citizens Advice Service.
We are not responsible for any failures or delays caused by you, your GP, Pharmacy Partners or Royal Mail. In the event of an issue you should contact us in the first instance and we may direct you to contact your GP, Nominated Pharmacy or Royal Mail as appropriate. We are not responsible for losses not caused by our breach, indirect losses or a failure to provide the Service due to any cause beyond our reasonable control which prevents us from fulfilling our obligations including but not limited to fire, storm, riot, civil disturbance, war, nuclear accident, terrorist activity and acts of God.
If we do breach these terms we shall only be liable for losses which are a reasonably foreseeable consequence of such a breach. Losses are foreseeable where they could be contemplated by you and us at the time of entering this Agreement.
Can I use Echo?

Yes, provided you are at least eighteen (18) years of age and hold a valid UK credit or debit card in your name and you are currently registered with an NHS England GP practice integrated with the Electronic Prescription Service.
What are my obligations?

You are responsible for the information you provide to us about yourself, your GP and your medication. You promise that it is accurate. If you do not provide accurate information you could be putting your health at serious risk. You must check the spelling and dosage information and follow the clinical directions provided with your medication. You should review the patient information leaflet provided with the medication. If at any point the information that appears on Echo contradicts with information provided by your GP please contact us immediately.
You confirm that you are requesting medications for your own personal use only. Medications should never be shared with any other person.
You agree to keep your Echo login details confidential and not to share them with any other person.
If you are exempt, you agree that you are legally responsible for ensuring that your exemption reason is correct and up-to-date.
You agree not to use any Service provided by us for any unlawful purpose, including requesting unauthorised medications.
You agree not to use our websites or applications in any way that will damage, impair or render them less efficient.
You acknowledge that the use of the Service does not grant you any rights in relation to our intellectual property rights.
If you receive any medication scheduling notifications from Echo, you acknowledge and agree that these are recommendations only and that the clinical directions given by your GP and/or pharmacist must always supersede these recommendations. In the event these recommendations contradict the guidance on your medication label, you agree to follow the instructions on the medication label.
You acknowledge that Echo is not responsible for incidents relating to the storage, handling, manufacture, delivery, use, misuse or abuse of your medication.
We reserve the right to suspend or terminate your access to Echo at any time without notice if we have reasonable grounds to believe that you have breached any of these terms.
How does payment work?
If you pay for your medication, then you will be charged the NHS prescription charge, which is currently £8.60 per item. This will appear on your bank statement as 'ECHO. No medical information will be passed to your bank or credit card company.
If you do not pay for your medication, you will be required to declare and upload appropriate evidence of your exemption status. You agree that it is your responsibility to ensure that you meet the exemption criteria. You agree for Echo to share this evidence of exemption with appropriate NHS authorities for verification. Please note that supplying false information is fraud and can result in a fine.
You will also pay the relevant postage fee (if applicable) which will be shown separately at the checkout stage before you place your order.
Your agreement with your mobile network provider will apply when using any Service. You may be charged by them for network connection services while using the Service. If you are not the bill payer for the network connection services being used, you will be assumed to have received permission from the bill payer to use the Service.
Our payment processing platform, Stripe, may also perform a pre-authorisation on your card to ensure your payment details are correct.
Can I cancel my order?
You can cancel your order at any point until the medication is dispensed by a Pharmacy Partner and you will receive a full refund with the same method of payment. Unfortunately, due to the nature of prescription medications, once your items have been dispensed, you will be unable to cancel your order, return the medication or receive a refund (unless you are returning them because they are damaged or have been dispatched in error). Any unwanted medicines must be disposed of by returning the medication to a pharmacy or to any authorised location.
When will I receive my medication?
Medications are sent via Royal Mail and orders dispatched before noon on Monday to Friday should arrive within 48 hours from the time the order is dispatched by a Pharmacy Partner. We cannot guarantee the exact time and day of arrival – please allow for up to three working days for your medication to arrive.
Refrigerated items are sent via Royal Mail 24 Signed For delivery – please ensure that someone is available to receive your order at the delivery address. Echo uses Woolpack technology to keep items cold for up to 48 hours. If you have any concerns about order please contact us immediately via help@echo.co.uk and do not use the medication until you have consulted with our pharmacy team.

You understand that once your item is passed to Royal Mail, it becomes their responsibility. Royal Mail terms and conditions apply to your order. These can be accessed here: http://www.royalmail.com/terms-and-conditions.
These Terms are governed by the laws of England and Wales and any dispute, question or remedy shall be determined exclusively by the courts of England and Wales. These Terms are only available in the English language. If any part of these Terms is disallowed or found to be ineffective by any court or regulator, the other provisions shall continue to apply.

How can I contact you?

The fastest way to contact us is via the app's live chat function. Alternately, you can email us at help@echo.co.uk or write to Metabolic Healthcare Ltd, 228-230 Uxbridge Road, London W12 7JD. Should you wish to file a complaint please contact us via the methods listed above. We aim to acknowledge complaints within two working days.

Privacy Policy
Introduction
In order to deliver this Service we need you to provide us with personal information. We take our responsibilities as custodians of this data very seriously and will never use or share it without your explicit consent. This privacy policy explains what information we need, how we use it and how you can control this.

You may have heard of the Data Protection Act, which sets out the laws about how we treat your information. There is also another set of guidelines called the Caldicott principles, specifically designed to ensure that UK patient data remains confidential. We have developed our systems and processes to ensure that we meet or exceed the standards set out in both documents. Echo's is listed as 'Metabolic Healthcare Ltd' on the NHS Digital Caldicott Guardian register (ODS: 8JP79).

Who controls your information?

Echo is a trading name of Metabolic Healthcare Ltd, a company based at 21 Dartmouth Street, London SW1H 9BP. Echo takes overall responsibility for managing your data, and is what is legally known the 'data controller' – you can read more about our responsibilities by visiting our page on the Information Commissioners Office's website (Registration Number ZA140346). Echo works with NHS community pharmacies, all of which are registered with the General Pharmacy Council and follow strict data protection protocols. Your information will be passed securely to our Partner Pharmacies in order to fulfil your prescription requests but no one else will have access to your medical data.

What information do we need and how do we use it?
There are some essential pieces of information that we require in order to process your prescriptions. We've outlined the main types of information that we handle below:
Personal information such as your name, address, date of birth and GP details.
Contact information, including your phone number and email address.
Details regarding the medication you require.
Exemption details if you do not pay for your prescriptions.
Electronic proof of your consent, so that Echo and its partner pharmacies can request prescriptions on your behalf.
Payment details for prescription charges and postage. Please note that Echo does not store your credit/debit card details, which are instead managed by our payment handler Stripe. You can read about Stripe's security credentials here
Preferred delivery address information and contact details, which we pass on to Royal Mail to facilitate delivery. Please note that we will never share any other information with Royal Mail.
Location information from your phone is used to make it easier for you to search for your GP and automatically populate address fields in the app.
Information such as when you accessed Echo, cookie data, requests made, glitches and crashes of the app may be recorded so that we can improve the service.
Integration with our live chat platform, Intercom. You can read about Intercom's security credentials here.
We use email, push alerts and in-app notifications in order to communicate. Sometimes we may need to contact you by phone. Occasionally these communications may contain personal information. If you are uncomfortable with these methods of communication, please do not use this service.
We will never share your information with any third parties for marketing, advertising or any purposes other than fulfilling your order as specified above.
Please note that we are obliged to share information as necessary to comply with any legal process within the UK.

How your data is kept secure
We use 256-AES SSL encryption to transfer your information between your phone, our servers and to our NHS Partner Pharmacies. Access to this information is restricted to our authorised personnel and your data will never be transferred outside of the European Economic Area.
Your data, your choice

If at any point your change your mind about using this service or just want to update your profile, please contact us by emailing help@echo.co.uk and we will process your request within two working days. It is our duty to make it easy for you to withdraw consent and have our data erased. Please note that we retain data for 6 years from deletion of your account in order to comply with our legal responsibilities (in accordance with the Data Protection Act 1998).

From time to time we may need to update these terms in order to comply with changes in legislation so suggest that you check this page periodically.

If you would like a copy of any personal information we hold about you, you can request this by writing to Metabolic Healthcare Ltd, 228-230 Uxbridge Road, London W12 7JD. Please note that there will be an administrative charge for processing this request.
Cookies Policy
Echo uses a technology called 'cookies' across all of its websites in order to deliver the best possible user experience. Cookies are files that are stored on your device every time you visit a website and enable us to understand your preferences and habits.
Cookies do not contain person-identifiable information such as medical information, credit/debit card or personal contact details.
Our websites are set to 'allow cookies' and if you browse our sites you consent to this. If you would prefer to deactivate cookies, you can do so by updating your browser settings. Please note that disabling cookies will limit the service that we can provide. For more information on how to update your settings, visit https://ico.org.uk/for-the-pub...
Echo uses three types of cookie:

Session cookies: These enable us to track your movement across our websites and save information to make life easier. For instance, a session cookie might save an item to your shopping basket, without which you would be forced to order each item separately.
Persistent cookies: These enable us to remember your preferences and settings each time you visit our websites. This makes using the site faster and reduces the need to re-enter data.
Third party cookies: These enable us to track user activity outside our websites and better optimise campaigns and analytics.
Revision History

27/07/17 – Added additional Green Light Pharmacy comments (SB/SG)

19/06/17 - Added Caldicott Guardian register link (SB)
30/05/17 - 1.0.4 Added Intercom security link (SB)
01/04/17 - v1.0.3 Prescription charge update (SB)
10/12/16 - v1.0.2 Summary Care Records access update / pushed to App (SB)
05/09/16 - v1.0.1 Postage charge update (SB)
01/09/15 - v1.0 (SB)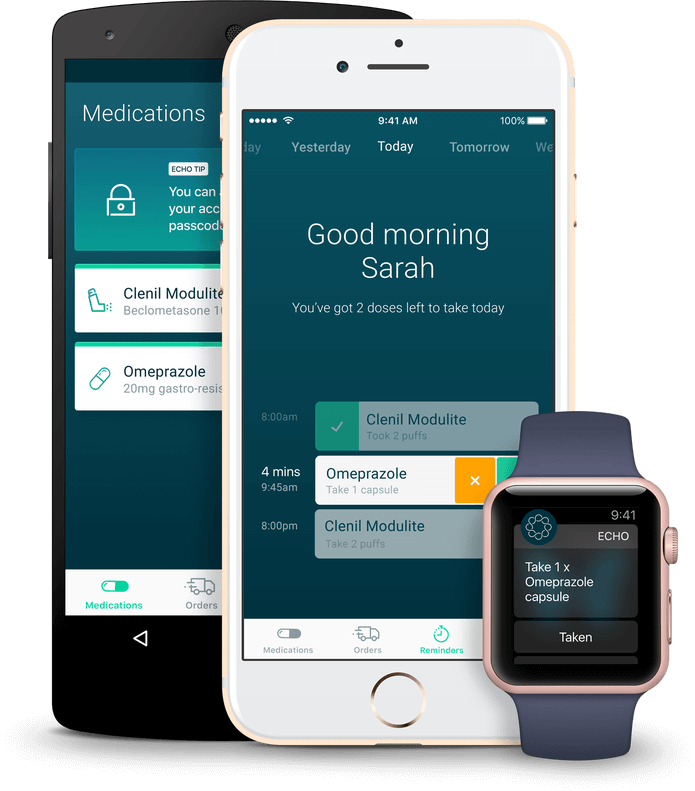 Take control today