Why Echo?
This is how it works
Echo is free and works with your existing GP practice, so there is nothing to set up.
Helpful reminders

The in-app tracker reminds you when and how to take your medication.

Never run out

We'll let you know when it's time to place your next order. Or if you need to see your GP.

Simple ordering

Get your repeat prescription in just two clicks.

Stay Informed

We'll keep you updated on your order every step of the way.
Reassuringly secure

Your data is safe. Medication comes in discreet packing. And we only work with fully accredited, UK-based NHS pharmacy partners.

Hassle free

We work directly with your GP's existing system. So there's nothing to set up. And you get your order faster.

No hidden charges

Free app download. And free postage options.

Built with love

Designed by patients and NHS clinicians, supported by global technology leaders.
It really is that simple. See what our users think.
Daily reminders to use my inhaler have genuinely helped me get my asthma under control. Echo is an essential app.

Mat, 35, Essex

Setting up my account was seamless - I ordered on Monday and received my items on Thursday morning. So, so easy.

Jill, 33, London

Getting my medication has never been so convenient. I never run out and it's just one less thing I have to worry about.

Ross, 20, Camberley

Great service offering and highly reliable. Game changer.

Alex, 35, London

Echo brings ordering repeat prescriptions into the 21st century. Just load the app and tap.

Liam, 23, Stoke-on-Trent

Fantastic service, already recommended to lots of people. It makes my life so much easier.

Great service, so easy to use, fast delivery, reminders when needed. Just tap on your app and the items arrive in great packaging.

Speedy, efficient, easy to access and use.

Charlotte, 44, Nottingham

So easy to use. Convenient, free, and perfect for a busy lifestyle.

Imogen, 25, Norwich

Daily reminders to use my inhaler have genuinely helped me get my asthma under control. Echo is an essential app.

Mat, 35, Essex

Setting up my account was seamless - I ordered on Monday and received my items on Thursday morning. So, so easy.

Jill, 33, London

Getting my medication has never been so convenient. I never run out and it's just one less thing I have to worry about.

Ross, 20, Camberley

Great service offering and highly reliable. Game changer.

Alex, 35, London
Posted with user consent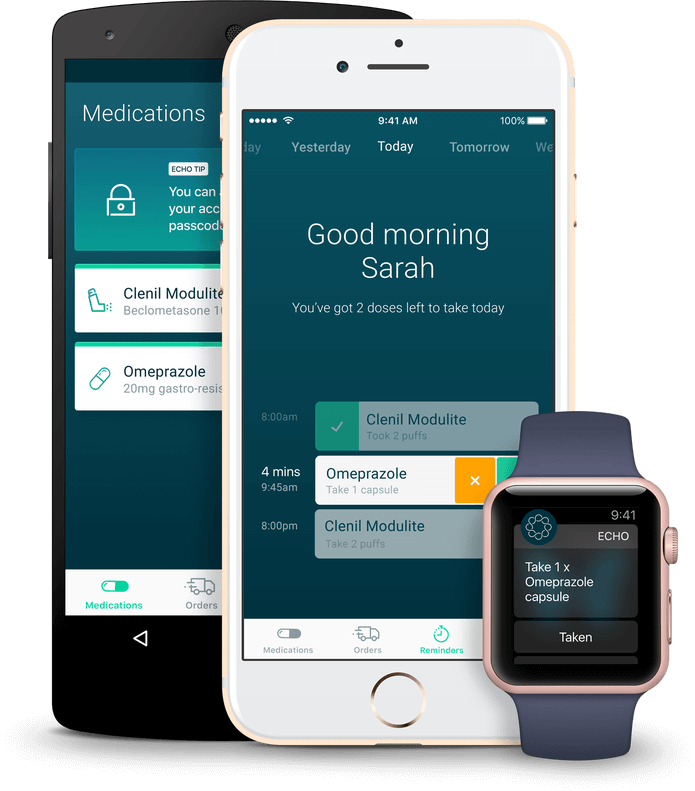 Take control today