With the rate of chronic illness in the United Kingdom growing rapidly, mastering how to prevent and disrupt harmful health behaviours such as smoking, poor diet, physical inactivity, and excessive alcohol consumption (often referred to as the "big four" chronic contributory behaviours) is essential and must become a public health priority.

The digital environment is becoming an increasingly important centre for improving and sustaining the health of people all over the world. From simple availabilities such as the NHS website for symptom checking to more evolved mobile applications such as SilverCloud for supporting the self-management of stress, the potential to make health information and behaviour change interventions widely available at a low cost is huge.
Ehealth and mhealth solutions are gaining popularity amongst health psychologists and becoming a key area of focus for their research, because of the significant health improvements that can be achieved by helping people make small and simple changes in their everyday choices.
What is health psychology?
Health psychology is a relatively new field of psychology. Sometimes referred to as the younger sibling of clinical psychology, it is yet to gain the same public knowledge that exists for more established disciplines like clinical psychology or psychotherapy.
Health psychology is defined as the application of psychological theory, research and practice to promote and maintain health in a given population (Johnston, 1994). In other words, health psychologists try to find solutions to the following question: "what drives health-related behaviours and how can they be altered in a positive way?"
What do health psychologists believe contributes to health and illness?
Health psychology uses a bio-psycho-social approach to understand health and illness. This means that health psychologists acknowledge that illness and unhealthy behaviour can be caused and influenced by a mixture of biological factors (e.g. genetics or viruses), psychological factors (e.g. knowledge, thoughts or emotions) and also social factors (e.g. social support or economic status).
This approach can be better understood using diabetes as an example. Many of our readers will know that good glycemic control of diabetes requires a huge commitment to self-management by the patient. Being required to manage diet and exercise, undertake therapy and clinic visits, and self-monitor and remember injections, makes it one of the most demanding chronic medical illnesses, both psychologically and behaviourally (Cox & Gonder-Frederick, 1992).
Historically, to prepare diabetes patients with the knowledge, skill and ability to care for themselves - and to encourage them to stick to their treatment plans - medical professionals have relied on educational interventions alone (Brennan, 1996). But much research since has found that even when patients have very good knowledge of what it takes to manage their condition well, many still end up not fully following the instructions of their doctors, whether consciously or not (Harvey, 2015).
This is the same for a whole host of other health behaviours. The risks of smoking, for example, are well known but not everybody stops because of this. Smoking continues for a range of reasons such as stress or peer pressure.
By taking a more holistic approach to understanding this problem, health psychology acknowledges that more than just knowledge is needed to achieve significant lifestyle changes in patients with diabetes. Health psychology acknowledges that:
Self-management of diabetes can be worse in older patients due to cognitive decline or memory loss, which may limit their understanding of a doctor's instructions (Hewitt et al., 2010) : a PSYCHOLOGICAL factor.
Self-management of diabetes is demanding and often causes serious psychological stress. Stress can make it hard to manage the disorder and can also directly disrupt glycemic control through its effects on stress hormones such as cortisol and catecholamines (Surwit & Schneider, 1993): a PSYCHOLOGICAL & BIOLOGICAL factor.
Self-management of diabetes can cause patients to experience social stigma. One study found that self-administration of insulin using diabetes technology can sometimes be confused with illegal drug use by the general public causing negative attitudes towards the patient (Shiu & Wong, 2002): a SOCIAL factor.
Self-management of diabetes can clash with a patient's identity and cause them to break the rules set by their doctor. Researchers Mamykina and colleagues (2010) encountered a patient whose family meal traditions conflicted with their treatment plan: a PSYCHOLOGICAL factor.
By looking at a patient's whole story, health psychology is able to contribute to better overall self-management of chronic illness by targeting a range of factors that take place in the illness experience.
What are some examples of health psychology campaigns?
To date, many behaviour change interventions within health psychology have utilised "fear appeals" to try to prevent harmful health behaviours. Fear appeals are graphic representations of the potential consequences of health-risk behaviours (Carey & Sarma, 2016). Their use in public health campaigns rests on the idea that "if people are confronted with the risks of doing something, they will surely stop doing it". Common examples include the gruesome images placed on cigarette packaging or the upsetting footage of an infant dying in a car crash whilst not wearing their seatbelt.
Despite the prevalence of these images, health psychology research suggests they are actually not the most effective way of educating people or discouraging harmful behaviours. Why? Well, most of us are quite bad at acting in line with our own health intentions (Webb & Sheeran, 2006) - especially when we are not confident in our ability to change our behaviour (Holloway & Watson, 2002).
More recently, a collection of ideas known as 'nudge theory' have evolved. Nudge theory proposes that if around 80% of human behaviour is automatic and hard to change through our intentions alone, then we must instead guide or motivate behaviour by designing the health environment in a way that will make certain (more healthy) options more likely to be chosen (Thaler & Sunstein, 2008).
A 'nudge', therefore, is something in your environment that is designed to make you behave in a particular way. Nudges are very important outside of public health too - businesses such as Amazon are nudging you when they display extra complementary items next to purchases you are about to make.
Despite some ethical concerns, nudge theory is supported by the UK government who have developed a 'nudge unit' within Whitehall that spearheads this approach for a number of health challenges among the population, such as obesity. Some notable examples of nudge theory in action include projects like:
Placing healthier snacks at checkout queues to encourage more nutritional snacking.
Changing escalator signs to read "move left" rather than "stand right" to encourage more overall movement.
Changing the wording of GP appointment texts reminders to include the £160 cost of the appointment to reduce non-attenders (Hallsworth et al., 2015).
Sending letters to GPs with the highest antibiotic prescription rates stating that "a great majority of practices prescribe fewer antibiotics per head" than them to reduce the number of antibiotic prescriptions that they issue.
Adding calorie counts on menus to encourage lower calorie selections.
An initiative rolled out by Gateshead Council who aimed to reduce people's salt intake by manufacturing salt shakers with five hole in the lid rather than seventeen holes.
Salt shakers (before & after) used in the Gateshead nudge campaign
Where we come in
Almost half of all adults take a repeat prescription, but 40% of medication isn't taken as directed. This costs the NHS billions in waste each year. Echo's mission is to remove the barriers to adherence. Echo's notifications which remind you when to when to take your medication throughout the day are another excellent example of digital health innovations that are nudging patients in the right direction… towards better managing their health.
References
Brennan, A. (1996). Diabetes mellitus: biomedical health education/ promotion approach. British Journal of Nursing, 9, 1060-1064
Carey, R.N. & Sarma, K. M. (2016). Threat appeals in health communication: messages that elicit fear and enhance perceived efficacy positively impact on young male drivers. BMC Public Health. 16, 645
Cox, D. J. & Gonder-Frederick, L. (1992). Major developments in behavioural diabetes research. Journal of Consulting and Clinical Psychology, 60, 628-38
Hallsworth, M., Chadborn, T., Sallis, A., Sanders, M., Berry, D., Greaves, F., … Davies, S. C. (2016). Provision of social norm feedback to high prescribers of antibiotics in general practice: a pragmatic national randomised controlled trial. The Lancet, 387, 1743–1752
Harvey, J, N. (2015). Psychosocial interventions for the diabetic patient. Diabetes, Metabolic Syndrome and Obesity, 8, 29–43.
Holloway, A. & Watson, H. E. (2002). Role of self-efficacy and behaviour change. International Journal of Nursing Practice, 8, 106-115
Johnston, M. (1994). Current trends in Health Psychology. The Psychologist, 7, 114-118.
Mamykina L., Miller, A. D., Mynatt, E. D., Greenblatt, D. (2010). Constructing identities through storytelling in diabetes management. Proceedings of the SIGCHI conference on human factors in computing systems. Association of Computing Machinery, New York, USA.
Shiu, A. & Wong, R. (2002). Fears and worries associated with hypoglycemia and diabetes complications: perceptions and experience of Hong Kong Chinese clients. Journal of Advanced Nursing, 39, 155-163
Hewitt, J., Smeeth, L., Chaturvedi, N., Bulpitt, C. & Fletcher, A. (2010). Self-management and patient understanding of diabetes in the older person. Diabetic Medicine, 28, 117-122
Surwit, R. S. & Schneider, M. S. (1993). Role of stress in the aetiology and treatment of diabetes mellitus. Psychosomatic medicine, 55, 380-393
Thaler, R. & Sunstein, C. (2008). Nudge: Improving Decisions About Health, Wealth and Happiness. Yale University Press, New Haven & London
Webb, T. L. & Sheeran, P. (2006). Does changing behavioural intentions engender behaviour change? A meta-analysis of the experimental evidence. Psychological Bulletin, 132, 249-268
Share this article:
More from the blog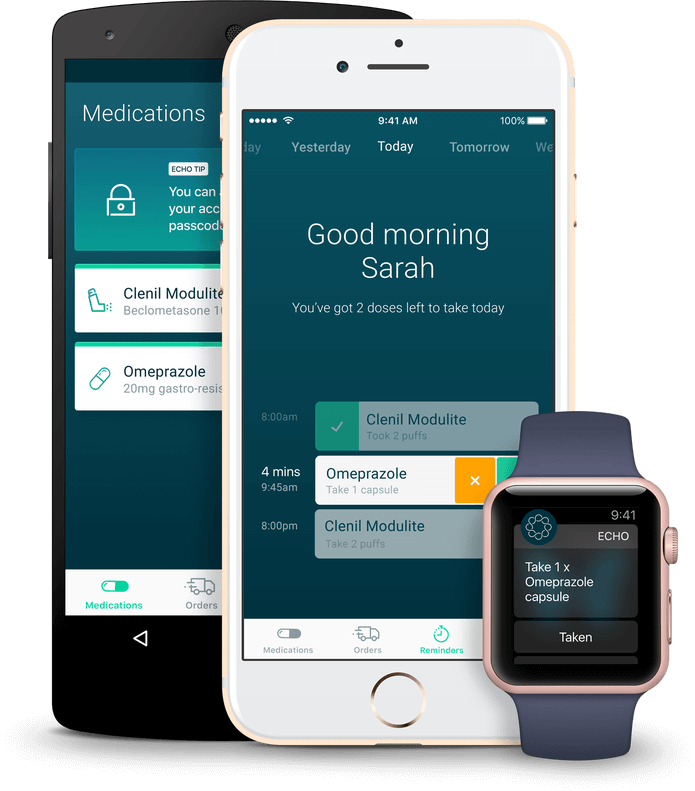 Repeat prescriptions delivered.
To your door.
For free.

Take control today...