Omeprazole was discovered in 1979.
It appears on the World Health Organisation's List of Essential Medicines; the medications considered to be the most effective and safe in a healthcare system.
According to the British Society of Dental Hygiene and Therapy (BSDHT), omeprazole was the fourth most-prescribed medicine in the UK in 2014.
According to NHSBSA statistics, over 2 million items of omeprazole were prescribed in the UK in March 2018 alone.
What is omeprazole?
Omeprazole (oh-MEP-prah-zole) is a treatment for the relief of stomach and oesophagus problems such as indigestion, heartburn and acid reflux. It can additionally be used to prevent and treat stomach ulcers. It works by reducing the amount of acid your stomach produces.
The medicine belongs to a group of drugs called proton pump inhibitors (PPIs). PPIs work by blocking the 'proton pump' of the gastric parietal cell, thereby stopping the secretion of gastric acid.
All types of omeprazole are available on prescription, and the lowest-strength 10mg tablets and capsules can be bought over the counter from pharmacies.
Omeprazole is the generic name for the brand-name drug Losec (among others).
Generic vs brand name: omeprazole and Losec
How to take omeprazole
Most people who take omeprazole take it once a day in the morning. If you've got a severe illness your GP may direct it to be taken twice a day - once in the morning and once in the evening.
Omeprazole is taken orally, and comes in the form of a tablet, capsule or liquid that you can swallow. Do not crush, break or chew the tablets - take them whole with a glass of water. Liquid omeprazole will come with a syringe or spoon to help you take the right amount.
Omeprazole doesn't upset the stomach, so it's possible to take without food. In most cases it's best to take just before a meal as this will prevent food from irritating the stomach lining.
The dosage you'll take depends on the symptom/condition the medication has been prescribed for. The doses are as follows:
10mg to 20mg a day for indigestion
20mg to 40mg a day for acid reflux
20mg to 40mg a day for stomach ulcers
20mg to 120mg a day for Zollinger-Ellison syndrome, a condition where the body produces a lot more stomach acid than is needed.
Again, the dosage depends on what your GP has prescribed the medication for. Consult with your doctor or pharmacist if you have any questions about taking omeprazole.
Omeprazole side effects
Most people who take omeprazole won't experience any side effects. If you do, it will usually be mild and go away once you stop taking the medicine.
Common side effects affect more than 1 in 100 people and include:
Abdominal pain
Constipation
Diarrhoea
Flatulence
Gastrointestinal disturbances
Headache
Nausea
Vomiting
Uncommon omeprazole side effects range from dizziness to pins and needles. The full gamut of potential (but very rare - happening in less than 1 in 1000 people) side effects can be found here.
Tell your GP or pharmacist if the side effects continue to persist.
Omeprazole interactions
Omeprazole can interact with some common meds such as citalopram, clopidogrel, methotrexate and digoxin.
If you are taking rilpivirine or atazanavir (types of HIV medication), speak to your specialist about an alternative to omeprazole.
A full list of omeprazole interactions can be found on the NICE website. For further advice, ask your GP or pharmacist.
Omeprazole contraindications
There are some instances where omeprazole may not be suitable to take.
Before taking omeprazole, you should tell your doctor if you:
Have ever had liver disease
Are deficient in vitamin B12
Are allergic to proton pump inhibitors.
If you are unsure about any of these, speak to your GP or pharmacist and they will be able to advise you.
Taking omeprazole during pregnancy or while breastfeeding
In most cases, omeprazole is safe to take during pregnancy or while breastfeeding.
When you're pregnant, it's better to treat indigestion without taking a medicine. If lifestyle changes (such as eating smaller meals and not eating fatty or spicy foods) don't work, your GP may recommend a medication like omeprazole to relieve your symptoms.
If your baby is premature or has health problems, check with your GP before taking omeprazole.
What's the easiest way to get omeprazole?
If your GP has authorised you to take omeprazole on repeat prescription, you can order with Echo today.
Download Echo
Share this article:
Clinically reviewed by Alistair Murray MRPharmS & Pooja Raichura MRPharmS: 22/6/18
More from the blog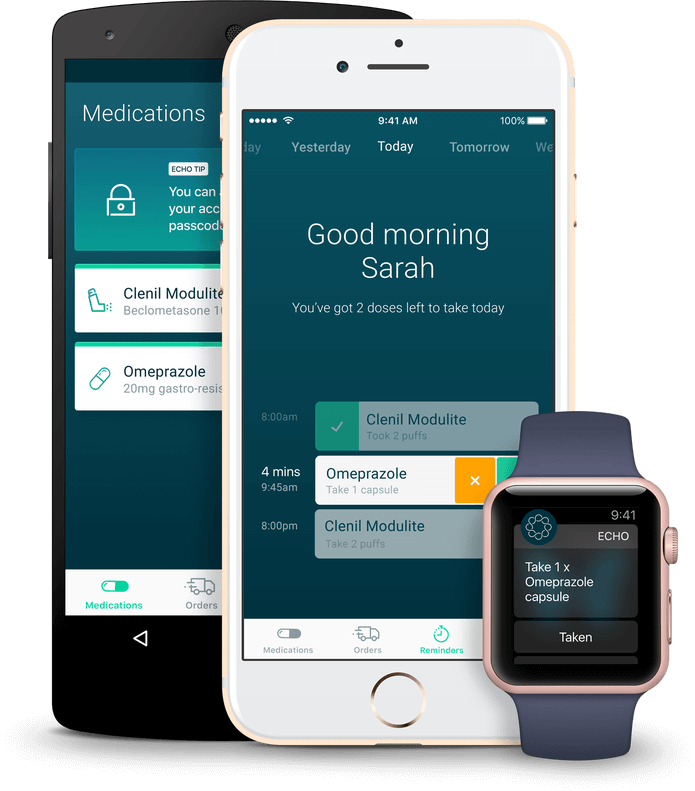 Repeat prescriptions delivered.
To your door.
For free.

Take control today...